How to Install Metal Fastening Buttons? Where is it used ?
13 Oct
Four- or two-piece sets of fastening metal buttons (studs and rivets) have been in use for a long time and have a ship for more than a hundred years. Their function has hardly changed since their invention. Even after a long time, we can say that even today, they are used intensively as textile metal accessories in terms of functionality and aesthetics. Metal buttons are an ideal choice for a variety of clothing and can be used for different purposes.
The fastening metal button type consists of four or two parts. For example, considering the kinds of snap buttons. These metal buttons are joined by combining two pairs of components: the head-visible portion of the stud is locked by engaging the upper part and the lower part portion together. The upper part of the button consists of a concave shape (female) and a convex (male) part, which assists to engage the lower button. The lower component of the knob has a conical shape in which the other is placed. The upper part of the button (female) may also be at the bottom depending on the areas of use.
For example: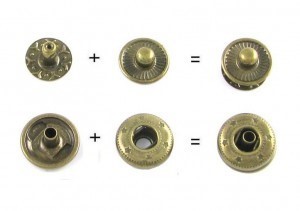 Fasteners - Nickel-plated fasteners - Zinc metal and brass
Fasteners - Nickel plated 8, 10 and Fasteners - zinc and brass 12 mm

Both types of snap button small snap button models are suitable for 1-3 mm thick materials. It is usually made of zinc alloy and is coated with the customer's preferred color.
Practical use of metal buttons
Snap buttons are produced specifically for fabrics of different strength. For example, towel fabrics, knitted fabrics and leather products are used as accessories or functional elements. They can also be used to fix a fabric to solids (wood, cardboard or plastic) or more than two materials.
Metal buttons in this group cannot be used only in the textile industry. They are especially preferred in bags, shoes and many other places (rivet types). You can use it in aesthetic accessory, ready-made clothing (shirt, jacket, vest etc.) products, functional elements in the bag sector (wallet, suitcase, packaging, etc.) or in pet accessories (leashes, dog and cat clothes etc.).
In the following, we will try to explain the application areas of textile and leather metal accessories under several titles with examples.
Children's Clothing:
Usually a simple and non-patterned snap button type is used or only the company's logo is applied. The part to be considered here is the material and the coating on which the studs are made. Generally, the coatings for the domestic market are not paid attention to, and low quality nickel, gold and similar coatings are applied and therefore do not comply with export standards. If the product is to be exported, attention must be paid to the coating quality.
Outwear:
Metal snap buttons used in products such as coats, coats, leather jackets, shoes, belts, bags are generally divided into two types as Pipe Type Studs and Double Piece Studs.
Pipe Type Studs:
They are often used in shoes, bags, belts, leather clothing. This type of snap button is made up of four parts. Two upper parts and two lower parts. The upper part is mostly used with company logo and pattern. It makes both aesthetic and buttoning function together.
Double Piece Studs:
Such metal buttons are mostly preferred in outerwear and outerwear: jackets, coats, jackets and so on. Some fashion designers also use these types of snap-on models for bag and shoe design for original designs.
Rules for the correct application of locking components
Select the correct hole size.
Apply sufficient pushing force during riveting.
Always strike the hammer or pliers perpendicular to the nail.
Use the correct size mold to secure the metal buttons to each other.
Prefer metal flakes instead of plastic in textile materials
When working with artificial leather, prefer a round ring.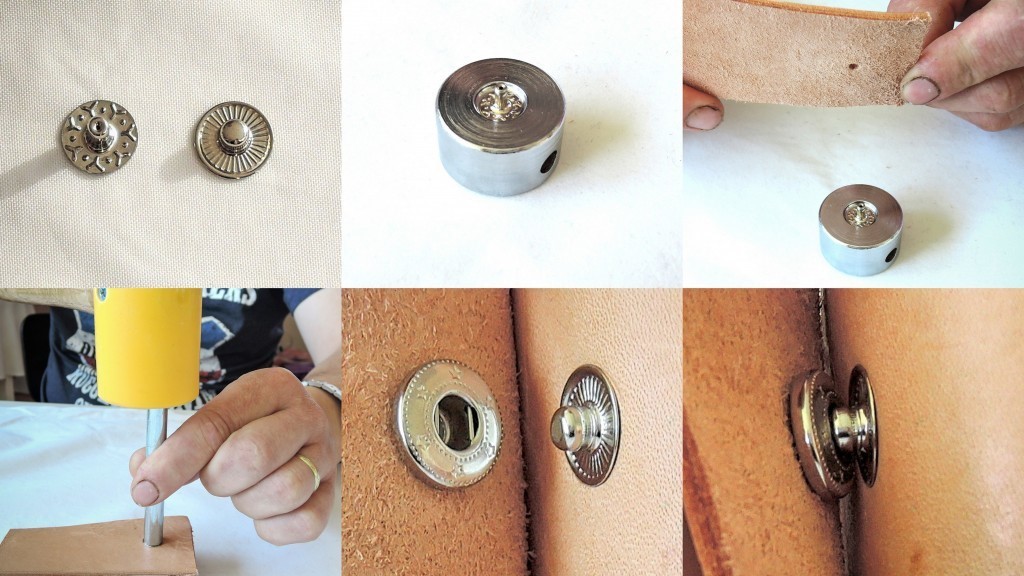 How do I snap a metal snap button?
For metal studs lighter buttons, we need materials and tools:
4-piece split snap button - Top 2 parts and Bottom 2 parts
Snap Button Pliers and Rubber Hammer
rubber surface
Fastening die - tailor-made for each model according to the size of the snap button
Note: Special tools are used in the production of hand-made bags; special tools for wood, plastic and leather processing. Special hammers are used in shoe and jewelry production.
First, drill a hole on the material to which the button will be inserted so that the nail securing the parts of the stud together.

How to attach the upper part of the metal studs?
Here we will try to explain to you how to make the driving process easily with the fastening machine.
First, the parts of the upper part of the button are separated from the parts of the lower part.
The separated parts are generally called j male parts le in jargon. See figure A :) (Picture above)
Top fixing nail